In this article, learn how to remove watermark from video.




Watermark or Logo is a copyright symbol for the video and hence you may not use this for commercial use. Watermark presents itself in different methods like light-colored text, certain logo, or shades of darkness to prevent video from being copied without authorization. So, this tutorial will guide you a few ways to erase watermark on video.
Here are these ways to remove watermark from video
Remove Logo Now.
Video Converter Studio.
ApowerEdit.
Video Watermark Remover Online.
How To Remove Watermark From Video
Method 1. Removing watermark from video using Remove Logo Now
Using Remove Logo Now program, you should be able to remove watermarks like subtitles and logos without any visible traces. Follow the steps to do the job:
Step 1. Download and install Remove Logo Now on your computer, and then launch it.
This is a trial version but I highly recommend you to buy a pro version to satisfy your demands.
Step 2. Once the program launched, you click on Add File(s)… to select input the video file.
Step 3. Click on Find Logo button then this video watermark remover will automatically find the watermarks contained in your video.
Step 4. Also, you can use the manual editing tool in case you are not content with the results yielded by Find Logo. Add or remove pixels, use Rectangular, or use the Marker tool to remove logos or watermarks from a video.
Step 5. Click on Remove > Start button.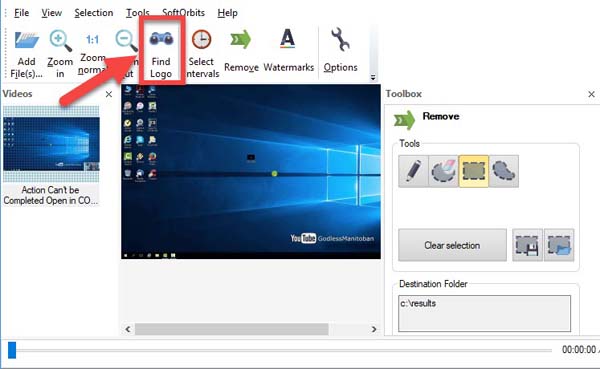 Wait until the process finishes, and you will know how to get rid of a watermark on a video.
VIDEO TUTORIAL:
Method 2. Video Converter Studio
Video Converter Studio is a very good option for who need an easy and fast way to remove logos from videos. This tool helps you to make adjustments on your videos by changing the duration of the video, change saturation, contrast and other image values, crop pictures, capture still frames or load subtitles, among other things.
Step 1. Download and install Video Converter Studio on your computer, and then launch it.
Link Download Video Converter Studio
Step 2. Drag the file into the program, or click Add file to import the video file.
Step 3. Once added your video, this program will automatically identify those watermarks contained in the video.
Step 4. Click on Convert button to generate the video.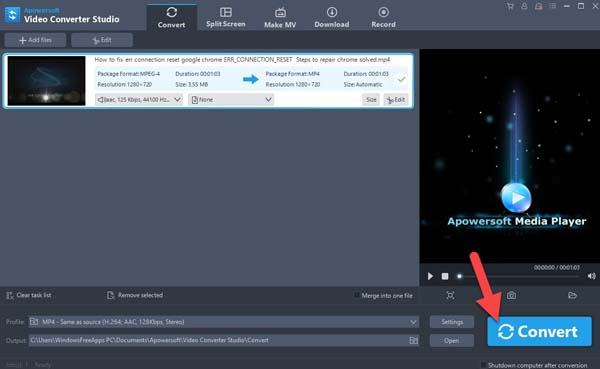 You may convert your video files into MP4, MKV, WMV or AVI files without losing the quality of the video.
Method 3. Using ApowerEdit
ApowerEdit is a professional media file editing software which helps users to record, enrich, convert and deliver multimedia content on computers. Also, it comes with various editing options like trimming, cutting, splitting, merging, rotating, mixing video clips, adding video effects, and many more. With the help of this software, you can easily remove watermark from video via the function of adding and cutting mosaic. To do that, follow these steps below:
Step 1. Download and install ApowerEdit on your PC, and then run it.
Link Download Apowersoft Video Editor
Step 2. Drag video clip into the program then right click the video and select Add to Project.
Step 3. Now, you click the option of Mosaic to overlay the original watermark.
Alternatively, you can cut the margin of watermark by clicking Crop option.
Step 4. From the menu, select Export > Export.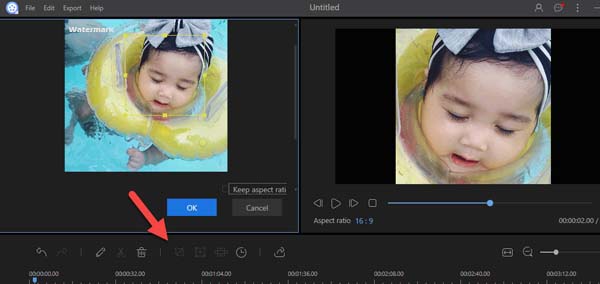 Method 4. Video Watermark Remover Online
This is another good method on how to get rid of watermarks on videos.
Step 1. Go to this website: http://www.videowatermarkremoveronline.com/
Step 2. Upload a video file from which you need to remove the watermark by clicking on the Choose File icon
Step 3. Then click on Remove Watermark button.
Wait for the Video Watermark Remover to complete the job.
All the four methods mentioned above are feasible solutions on how to remove a watermark from a video. Hope something helps you. If you have any Windows 10 errors you can see for the solution on my website.