In this post, you will learn how to remove noise background from your voice to make it clear on your iPhone & iPad.
Background noise during recording is a common issue that everyone faces at some point. Because iPhone microphones aren't the best, most people who want to record important things use an external microphone. For a better understanding, see our Best Microphone for iPhone list. We looked at six of the most popular microphones on the market.
Unfortunately, not everyone, especially non-professionals, takes audio seriously. However, if you're recording a podcast on your iPhone or shooting a video in a noisy environment, you'll get unwanted background noise from wind, background music, white noise, electrical hum, or a ceiling fan.
If you have an iPhone video that you can't use because of noise, or if you simply want to reduce noise in future iPhone recordings, this article is for you.
There are many methods to remove background noise from video on an iPhone, but they can be broadly described in three ways:
Method 1: Using the Voice Memo app
Method 2: Using the Denoise app
Method 3: Using WavePad app
How To Remove Background Noise or Wind Noise For Clear Voice On iPhone & iPad
Method 1: Using the Voice Memo App
If you want to record class lectures, meetings, or any other audio, the Voice Memo app on your iPhone is your best bet. Voice Memo is an audio recording app for the iPhone that also includes features such as smart folders and enhancement.
Step 1. Open the Voice Memo app. Then, select the recording from which you want to remove the background noises.
Step 2. Next, tap on the three horizontal dots icon to expand all options, and then select the Edit Recording option from the pop-up menu.
Step 3. Finally, in the top-left corner of the screen, tap on the enhancement icon that looks like a Magic wand. When the enhancement icon background turns Blue, it means that the audio has been enhanced and background noises have been removed.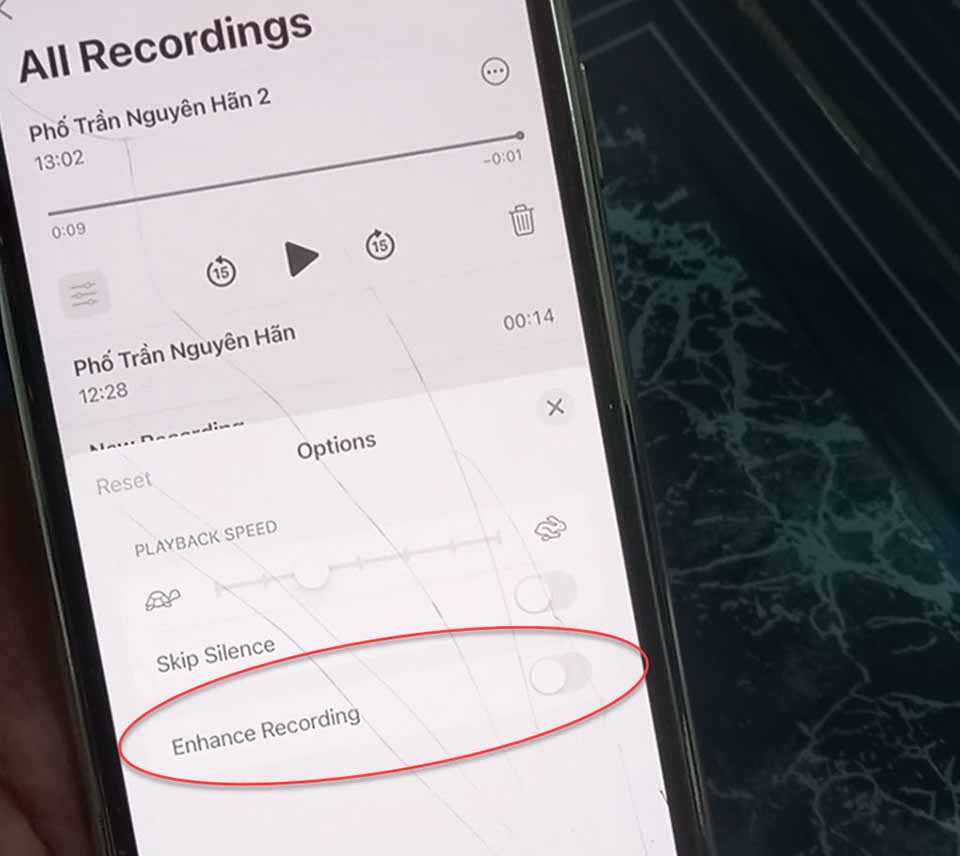 Method 2: Using the Denoise App
If the Voice Memo app does not work for you, you can remove noises by downloading and installing audio editor apps from the App Store.
The Denoise app is one such app, and it is designed to remove any unwanted background noises from your voice memos.
The app is not free; you must pay USD 1.99 to obtain it. You can use its amazing features once you have installed it. As a result, the app has received 4+ ratings.
Denoise is very simple to use; it has a simple user interface that allows you to select the types of noises you want to remove from your audio. It also allows you to remove background noises with a single touch. Installing and using Denoise is worthwhile because the app is very well designed to suppress noises for voice memos.
Method 3: Using WavePad App
Assume you don't want to spend money on a professional app and instead want to use a free audio tool to remove background noise. Then WavePad Music and Audio Editor, which has received 4+ ratings on the App Store, is the app for you.
However, the app is a little difficult to use. It is not as simple to remove noises as it is in the Denoise app. However, using the cleanup tool and other features such as subtraction, you can remove background noises from your voice memo.
However, the app is not entirely free; you will have to pay to access certain features. WavePad's pro version is also available. However, the free version includes all of the essential tools for removing background noises from recorded audio.
That's about it.