In this guide, learn how to fix "This plugin is not supported" error when trying to open a website on Google Chrome.
Google Chrome is now one of the most favorite web browsers in the world. However, lots of Google Chrome users have seen an error saying that "this plug-in is not supported":
Let me explain first what does this plugin is not supported mean?
This is an error message that various website media content, such as videos, might occur while you're browsing the Internet on Chrome browser. The root cause of the problem is Google Chrome, or other browsers, no longer supports NPAPI plug-ins. Because the media content on a webpage depends on unsupported plug-ins, so the error message will appear on your browser.
Read more: How to fix you need to upgrade your flash player
Here are the solutions you can try to fix this error.
How To Fix This Plugin is Not Supported Error in Chrome
Chrome isn't going to play Flash content if you have never installed Adobe Flash Player on your computer or the version you have is out of date. So, you should download and install the latest Adobe Flash Player before trying anything else.
Step 1. Install the latest Adobe Flash Player
1. Download the latest version of Flash Player by click here.
2. Double click on the downloaded file in order to run the installer.
3. Follow on-screen prompts and complete the installation process.
4. Restart your Chrome browser.
Step 2. Enabling Flash for Google Chrome
If the problem still remains, you should check that the "Allow sites to run Flash" setting is switched on in Google Chrome. To do that, follow these steps below:
1. Open your Chrome, then type "chrome://settings/content" in Chrome's URL bar and press Enter.
2. Then click Flash to open the settings in the image directly below.
3. If a Block sites from running Flash option is selected there, you need to switch it to Allow sites to run Flash.
I would recommend you should select Ask first setting. Because that enables a click-to-play Allow option that pops up whenever you click to play Flash content on a website page.
Step 3. Clear browser cache
The "This plugin is not supported" bug might be happening because of the recent files saved within your browser. Hence, a good way to get rid of this error will be in clearing your Chrome browser cache.
1. Open your Chrome browser.
2. On the top right corner, you click on Menu

 button > More Tools > Clear browsing data… A box will pop up.
You can also press CTRL + Shift + Delete keys on your keyboard at the same time.
3. Make sure you are clearing items from the Beginning of time. Then make sure that "Cookies and Other site data and" and "Cached Images and Files" options are checked. Click on Clear browsing data button.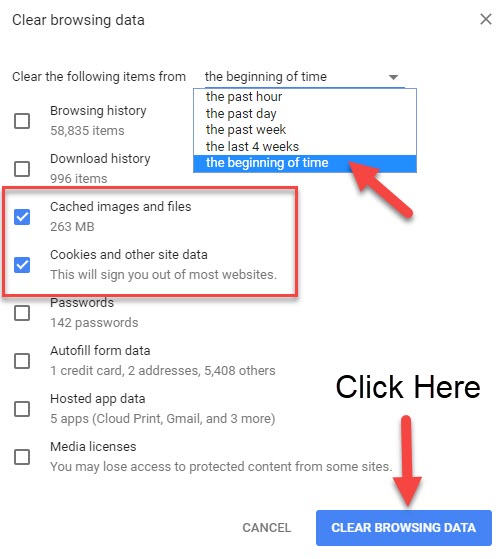 4. Restart your Chrome browser in the end.
When done restart your browser as the "This plugin is not supported" should have been solved.
Hope something helps you.