If you encounter an error message says "It looks like you don't have any applicable device(s) linked to your Microsoft account" then it happens because of the missing connection between your Microsoft account and the computer. The error normally occurs when the user tries to download an application, game, or software through the Microsoft Store.
Here is the full error message
It looks like you don't have any applicable device(s) linked to your Microsoft account. To install, sign in on a device with your Microsoft account.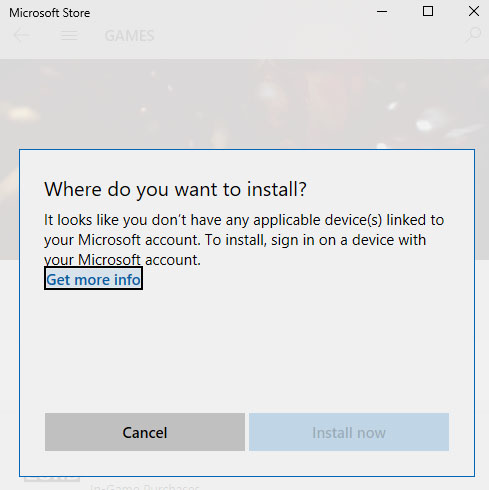 Fix this issue with the methods provided below.
How To Fix Don't have any applicable devices linked to MS Account
Method 1. Check your Microsoft account
1. Go to Settings.
2. After doing that, head to the Accounts menu.
3. At the left side of the Accounts window, select Email & app accounts.
4. See your email accounts to check if you are logged in to the appropriate email account.
Method 2. Check your device limit
Microsoft allows apps and games from the Microsoft Store to be installed on a maximum of 10 computers under one account. It applies to both Windows 10 PCs and Xbox.
1. On your web browser, sign in to account.microsoft.com
2. Go to your Microsoft Devices section.
3. If you have more than 10 devices on the list, choose to remove any of the non required devices from the list.
Now, check to see if the game/app is compatible with Windows 10 PC.
Method 3. Reset Microsoft store
Sometimes it is only a glitch, and resetting Microsoft Store will fix this issue. Here are the steps to reset Microsoft Store:
1. Open the Settings app.
2. When the Settings app opens, select the Accounts menu.
3. Find Microsoft Store from the list and click on Advanced options.
4. Click the Reset button. This will relaunch the Microsoft Store.
5. Now you need to sign-in using the same Microsoft account.
6. Once the sign-in is successful, check to see if the problem has been resolved by trying to install the app or game.
See also: How to download Microsoft Store apps without using the Store
Method 4. Re-register the Store App
1. Open a Command Prompt with administrator privilege.
2. In a Command Window (CMD), type the following to re-register the Store App:
powershell -ExecutionPolicy Unrestricted Add-AppxPackage -DisableDevelopmentMode -Register $Env:SystemRootWinStoreAppxManifest.XML
3. Reboot your system.
Method 5. Delete Microsoft Store Database Files
1. Open File Explorer and go to the following path.
C:\Windows\SoftwareDistribution\DataStore\DataStore.edb
2. Find and delete DataStore.edb.
3. Restart your system.
In this video, we are gonna show you how to fix the MS Store applicable devices issue.
Hope something helps you.