If your PC shows up the error "Display driver stopped responding and has recovered" after hanging, becoming unresponsive or even crashing, fix it permanently here.
See more: How to restart Graphics Driver in Windows 10
Sometimes, your Windows 10 hangs or freezes for some interval, followed by the Windows computer display turning off and then everything became normal, at which point an error message stating that the "Display driver stopped responding and has recovered" can be seen in the Action Center in the bottom-right corner of the screen. This appears when a feature known as Timeout Detection and Recovery (TDR) determines that the GPU has not responded within the allotted period of time and then restarts graphics drivers in order to save the user the trouble of rebooting a computer system entirely.
Display driver stopped responding and has recovered
If you're also facing the "Display driver stopped responding and has recovered" error message, there may be following reasons for it:
– A lot of applications and programs are running in background.
– The display/video driver you've installed is old and not fully compatible with your version of Windows.
– The Graphics Processing Unit (GPU) is taking more time than permitted to display graphics to your monitor
Following solutions may help you in resolving this problem.
You may also like:
How To Fix Display Driver Stopped Responding And Has Recovered in Windows 10
Method 1. Relieve some of the stress on the GPU
The first step of troubleshooting this issue is to relieve some of the stress on your GPU by closing a few unnecessary programs and applications that are open.
In case if it still persists, try METHOD 2.
Method 2. Increase the GPU Processing Time
You can increase the GPU processing time by increasing the value of registry corresponding to Timeout Detection and Recovery. Here are the steps:
1. Click Start, type "Run" and select Run. In the Run box, type "regedit" and click OK.
2. In the left pane of Registry Editor, go to following registry key:
HKEY_LOCAL_MACHINE\SYSTEM\CurrentControlSet\Control\GraphicsDrivers
3. In the right pane of GraphicsDrivers key, create a registry DWORD named TdrDelay and set its value data to 8.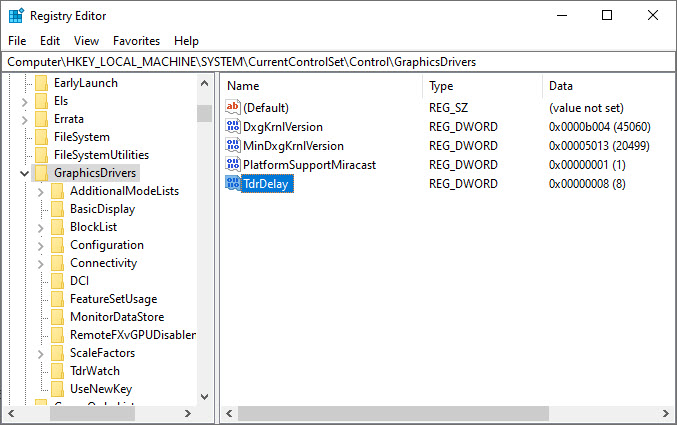 4. Close the Registry Editor, restart your system.
In this video, we are gonna show you how to fix display driver stopped responding and has recovered error on Windows 10 PC
Method 3. Reinstall your graphics drivers
1. Press the Windows logo key + R at the same time, type "devmgmt.msc" in the run box. Click OK to open Device Manager.
2. In the Device Manager window, expand the Display adapters, right-click on your graphics drivers and click Uninstall device. Then go through the uninstallation wizard to uninstall the graphic card drivers.
3. Once all above processes are finished, restart your system.
4. Now go to the official website of your graphics card manufacturer and check if a new driver is available. If such a version is available, download and install them yourself.
AMD: https://www.amd.com/en/technologies/radeon-software
NVIDIA: https://www.nvidia.com/en-us/geforce/drivers/
INTEL: https://downloadcenter.intel.com/product/80939/Graphics
5. Once the drivers have been reinstalled, check to see if that fixes the problem.
Hope something helps you.