How do you switch between multiple apps in Windows 10 based devices? The answer would be using a combination of two keyboard buttons: Alt + Tab.
However, many users complained that Alt Tab keyboard shortcut isn't working on their PC. This can be a big problem and in this post, we're going to cover the following issues:
Alt+Tab not switching Windows 10: Some users reported that Alt+Tab shortcut doesn't switch windows on their Windows 10 PC. This can be an annoying problem, but you should be able to fix it using one of our methods.
Alt+Tab not working properly: In some cases, Alt+Tab keyboard shortcut doesn't work properly on your PC.
Alt+Tab not working with Excel: Sometimes this problem can affect other programs such as Microsoft Excel.
Alt+Tab not working with AERO PEEK enabled: Several users reported that the Desktop Aero Peek feature is not working on their PC. However, you can easily fix the issue simply by reenabling Aero Peek on your PC.
Alt + Tab preview has stopped showing: Many users reported that Alt + Tab shortcut isn't showing window previews or desktop.
Alt-Tab disappears too quickly: This is another problem related to Alt Tab keyboard shortcut. Several users reported that Alt Tab menu disappears quickly.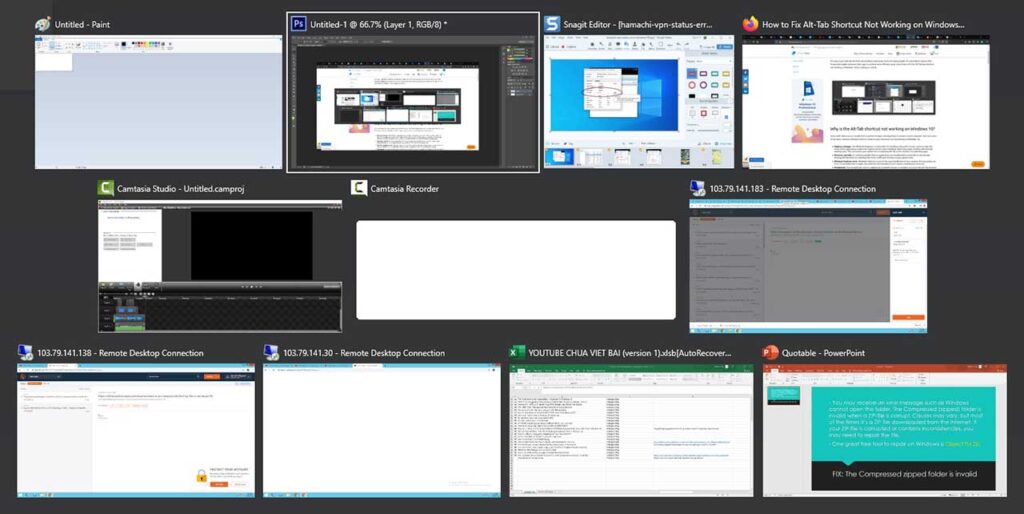 If you are facing this issue on your computer, you need to find out the ways to fix ALT+TAB doesn't work in Windows 10, this post is useful for you.
You may also like: How to fix problems with CTRL+ALT+Delete not working.
How to Fix Alt Tab Shortcut Not Working on Windows 10
Method 1. Make sure your keyboard is working properly
First of all, you should check if the keyboard is not working properly, and it isn't damaged in any way. Keys may not press down properly, or they are fragile, and they may break if something happens to them.
You can check if your Alt and Tab keys work by visiting a website that automatically detects and shows which keys you press down. We recommend using keyboard test online.

See more: How to fix if your keyboard is not working
The tester is unable to determine between duplicate keys such as Alt. Make sure you test both and check the on-screen keyboard highlight the Alt key as you press them!
If your Alt and Tab keys are working properly, you will see only one of the keys light up? This means that something is wrong with your keyboard. Testing if Alt-Tab works with a different keyboard or consider cleaning your keyboard.
Method 2. Restart Windows Explorer
Note: This might be just a temporary method, so you'll have to repeat it if the problem reappears.
1. Open Task Manager by pressing Ctrl + Shift + Esc.
2. Now look for the Windows Explorer process, right-click it and select Restart from the menu.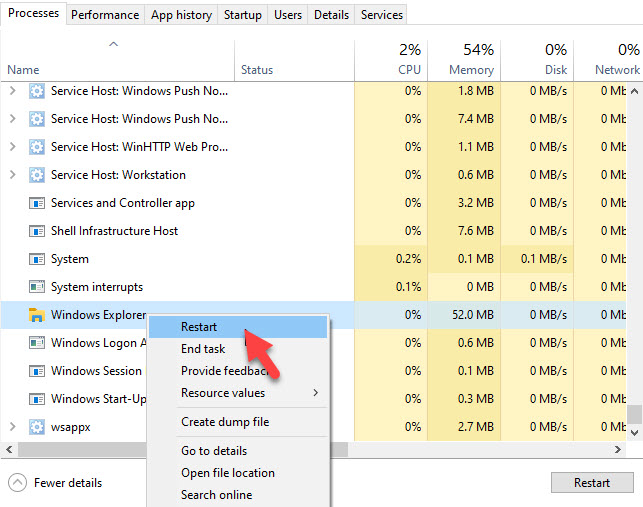 After doing that, your Windows Explorer should restart and Alt+Tab command should start working again.
Method 3. Make sure you have enabled the App Switching feature
The Alt + Tab shortcut to switch between various apps is enabled by default in Windows 10. But if you're using several monitors, you need to make a slight change.
1. Click on Start menu and select Settings.
2. Select on System, then select Multitasking from the right-hand panel.
3. At the bottom of the screen, find "Pressing Alt+Tab shows windows that are open on…" Choose your preferred option.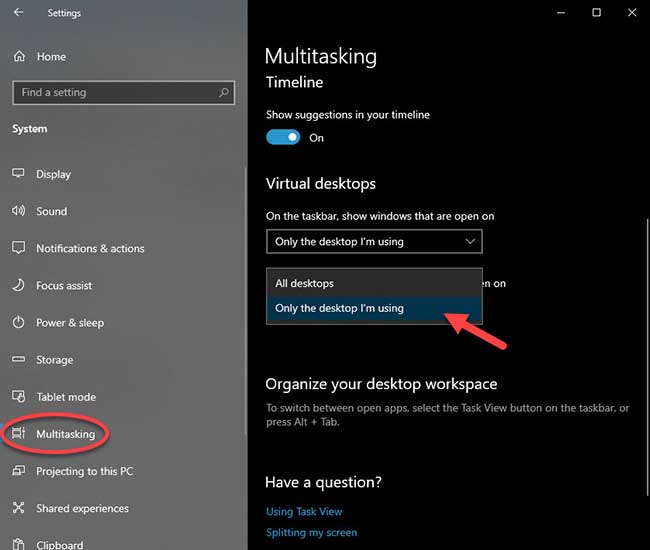 Method 4. Change the AltTabSettings Registry values
We would recommend you to create System Restore point before editing registry.
1. Press the Windows logo key + R at the same time, and then type in "regedit". Click OK to open the Registry Editor.
2. Go to the following path:
HKEY_CURRENT_USER\Software\Microsoft\Windows\CurrentVersion\Explorer
3. In the left pane, locate AltTabSettings DWORD. If this DWORD isn't available, right-click on an empty space and select New > DWORD (32-bit) Value. Now type AltTabSettings as the name of the new DWORD.
4. Double-click the AltTabSettings DWORD and change its Value Data to 1. Click OK to save changes.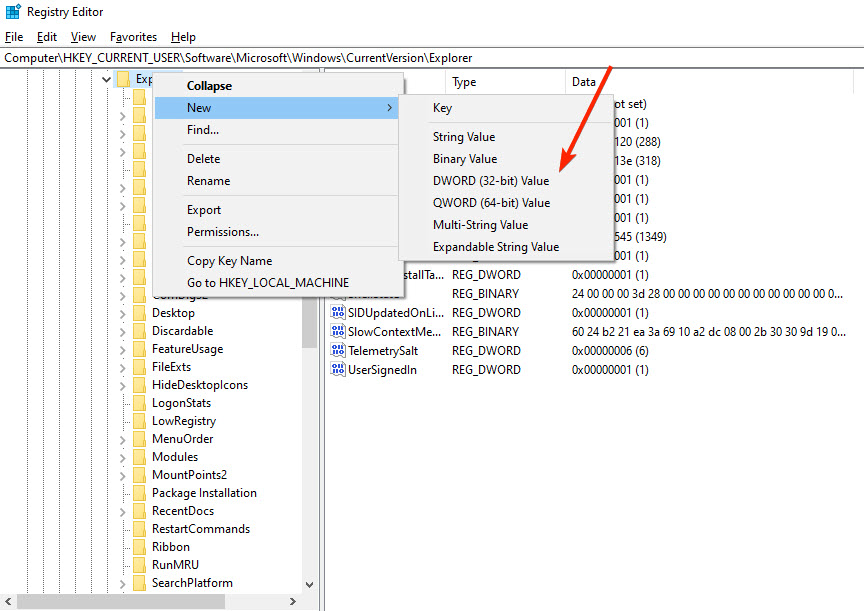 5. Close the Registry Editor and restart your system.
After restarting your computer, Alt Tab shortcut will start working again.
Method 4. Make sure that Peek option is enabled
Several users reported that Alt Tab shortcut didn't work on their PC, but they managed to fix this issue simply by enabling the Peek option. To enable Peek option, follow these steps below:
1. In the Search bar type in "advanced" and select View advanced system settings.
2. Go to the Performance section, click the Settings button
3. Now make sure that Enable Peek option is ticked.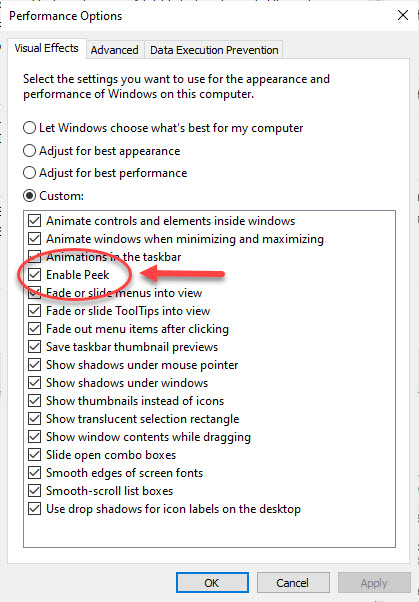 4. Click on Apply > OK to make changes.
After enabling the Peek option, Alt Tab shortcut will start working again.
Method 5. Disable / enable your hotkeys
1. Press Windows + R, type "gpedit.msc" in the dialogue box and click OK.
If you can't access Group Policy in Windows 10, see this tutorial.
2. Group Policy Editor will now open. In the left pane, go to the following path:
User Configuration > Administrative Templates > Windows Components > File Explorer
3. In the right pane, find Turn off Windows Key hotkeys and double-click on it.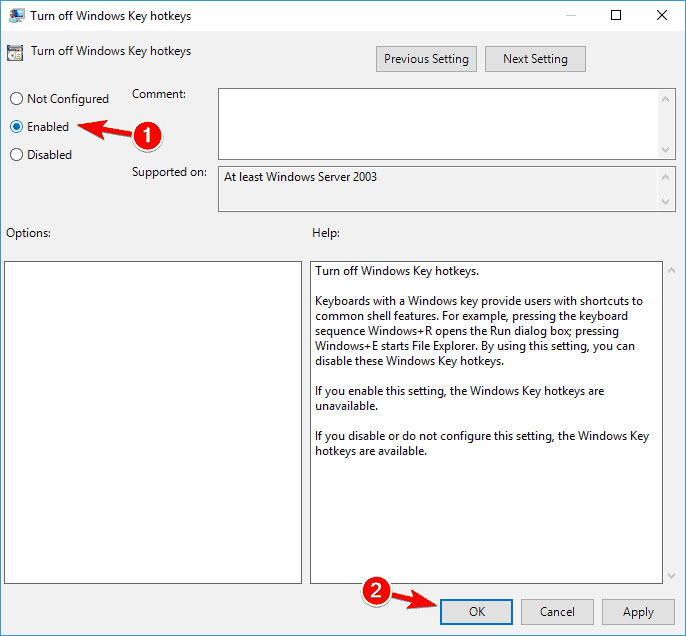 4. Select Enabled. Click Apply > OK to save changes.
If nothing works, repeat the above steps, but this time choose Disabled. Now check if your hotkeys work. If that doesn't work, choose Not Configured and save changes.
Read more: How To Enable or Disable Windows Key Hotkeys in Windows 10
Hope something helps you; now you know how to fix the Alt + Tab not working issue in Windows 10, hence you can anytime use the switching feature on your PC or laptop.
if you have any questions or issues, tell us in the comments section below.
FAQ: See more about keyboard problems
– How to fix Alt+Tab not working (switch between programs windows)
You can try to adjust keyboard settings, disable or enable hotkeys, as well as use one of the Alt Tab Alternatives for Windows we suggest in this article.
– Why is my keyboard not working properly?
At times, some keyboard keys get stuck, or type automatically, or type the wrong characters. Try the methods in this listed in this post, for instance, which apply to some general problems.
– Can you accidentally lock your keyboard?
We recommend you check if you turn on the Filter Keys? Hold down the right Shift key for a few seconds and check if the problem is solved.