In this article, learn how to download Mobogenie for PC for free.
Let me explain first What is Mobogenie? Why is there a need for Mobogenie for PC's?
Mobogenie is a free software that helps you connect your phone or tablet to your PC. Versions are available for Android and Windows, hence the application is suitable for both a Windows running computer and devices using Google's Android operating system, like a tablet or a phone.
Now let's take a look at what it can do. Here are a few pros and cons of this software:
Pros:
Using its user-friendly interface, you may easily transfer files from a device to another. Installed on your PC, Mobogenie automatically detects the connected Android device and becomes a file manager for your address book, SMS, music, videos, pictures, all the apps, and other data.
Back up and restore with one click: Mobogenie gives tools for a complete backup of your saved data.
In addition to being a mobile management app, Mobogenie has added tons of download features, enabling you to download apps, games, videos, and music from Google Play right on your hard drive and transfer them to your tablet or phone.
Messages manager: Mobogenie even lets you access the messages from the connected Android device right from your PC. Using Mobogenie, you may send messages to more than one contact at the same time.
Contacts manager: If you have thousands of contacts on your phone will be pretty hard to manage them, right? Mobogenie helps you to edit, add and delete phone contacts, easy and fast.
Cons:
Mobogenie is quite helpful software in many ways. However, the application itself can't be called a virus, it acts like one. It will collect and use your personal data without your permission. If you have an antivirus software installed on your computer, you will receive a lot of messages targeting Mobogenie as a virus.
This tutorial will show you how to download and install Mobogenie for PC on Windows 10/8/7.
How To Download and Install Mobogenie For PC/Laptop on Windows 10/8/7
Step 1. Download Mobogenie for PC for free from the link provided. Click here now!
Name: Mobogenie_Setup_3.3.7
Last updated:January 30, 2018
OS: Windows
Version: 3.3.7 / File size:34.5 MB
Step 2. Once you have downloaded the setup file of Mobogenie, double-click on it to begin the installation process.
Step 3. Now, you select the language you want. Click OK.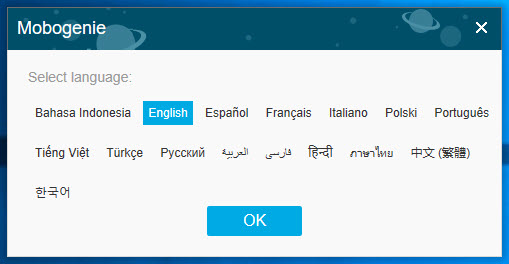 Step 4. Then click on Install Now button. And then wait until that installation is complete.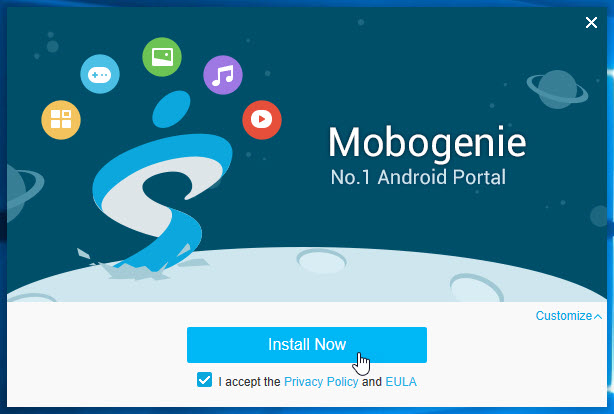 What's New in Mobogenie v3.3.7:
PC version offer support for Android 5.0
Here is the video to illustrate more: How to connect your Android device to Windows PC using Mobogenie

That's all!